Ceramic Fiber Braided Sleeve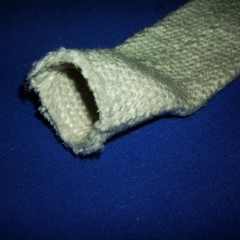 Ceramic Fiber Braided Sleeve
Product Description
Ceramic Fiber Braided Sleeve
Produced from an extremely pure alumina-silicate ceramic fiber. Available with fiberglass yarn reinforcement or Steel wire reinforcement.
An alternative to asbestos based rope. Highly flexible and minimal shrinkage
Provides low thermal conductivity and good dielectric strength and features excellent corrosion resistance.Used at 2300 deg F/1260 deg C continuously, molts above 3000 deg F/1650 deg C
Common applications for this sleeve include asbestos sleeve replacement, high temperature resistant electrical cable, wire covering, high temperature pipe wrapping.
Specification
2300 deg F/1260 deg C: Ceramic Fiber Braided Sleeve

Diameter(mm)

Wall Thickness (mm)

Weight (g/m)

Length (m)

12

2

50

25

20

2

72

25

25

2

90

25

30

2

105

25

32

2

115

25

35

2

122

25

40

2

148

25

45

2

154

25

50

2

170

25
Contact Us
Room 1218, No.202, Lane 658, Guangfulin Road, Songjiang, Shanghai, Shanghai, 201619, China
Phone :+8613524603686