Aluminized Aramid Fabric With Fiberglass Core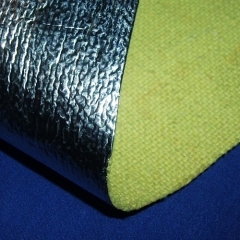 Aluminized Aramid Fabric With Fiberglass Core
Product Description
Aluminium Mylar laminated aramid fabric is more durable than aluminium foil laminated aramid fabric, popularly used to make fire suits, gloves, etc. which ask for flexibility in stitching and folding without broken.
Aramid spun yarn with glass filament core made fabric has excellent characteristic of higher temperature resistance. The glass filament increase the higher temperature resistance up to 550 degrees C. Not only can at -196 degrees to 304 degrees temperature range used continuously without obvious change but also not dissolved and combustion. However, even at low temperature of 196 degrees, there is no phenomenon of brittle and loss of performance, also can tolerate temperatures up to 560 degrees for a short time contact.
Properties:
One side coated with Aluminum foil/mylar film. Protection from intense radiant heat
Reflects more than 95% of the radiant heat that contacts its surface
Excellent radiant heat protection
Application
Because of the Aramid spun yarn with glass core fabric's unique high tensile strength and low density characteristics. The product used for industrial fire suits, gloves, insulation mat products and so on.
Contact Us
Room 1218, No.202, Lane 658, Guangfulin Road, Songjiang, Shanghai, Shanghai, 201619, China
Phone :+8613524603686